Since a guitar is precious and means a lot to us, investing in cases to protect it from scratches and dings is essential. That's why guitarists invest in guitar cases, which come at a varied price range from cheap to high-end. I am writing this post to clarify how much does a guitar case cost. In this post, I will walk you through the world of guitars and their average prices to give you an idea. Without further ado, let's get started. 
How Much Does A Guitar Case Cost?
1. Hard Case:
First and foremost, how much does a hard guitar case cost? On average, to buy hard cases for guitars, you can expect to pay anywhere from $50 to $400 for a hard guitar case, depending on the brand, materials, and features. For a basic hardshell case, you'll need around $50 to $100. But if you want a stylish case with extra protection, a premium locking latch will cost you $200 or more.
Keep in mind one thing a higher price tag doesn't necessarily equate to a better case. You can get a quality hardshell case at a comparatively low price. For example:
Cheap hard shell guitar case (acoustic): TKL Deluxe Hardshell Case
Cheap hard shell guitar case (electric): Crossrock Fiberglass Hardshell Case  
Hard Cases: Average Price (Brand-wise) 
Here are the average prices of some popular hard guitar cases:
SKB Deluxe Hard Case: $150 – $225
Fender Deluxe Hardshell Case: $100 – $200
Gator Deluxe Wood Case: $150 – $300
Mono Vertigo Case: $200 – $450
Hardcase HN27T Flight Case: $200 – $350
TKL Deluxe Hardshell Case: $75 – $150
2. Gig Bag:
Typically, the cost of a guitar bag can range anywhere from $20 to $200. The most common materials of a gig bag are nylon, canvas, and leather. Nylon is the most affordable option, ranging from $20 to $50. On the other hand, canvas and leather gig bags tend to be more expensive, with prices starting at $100 and going up to $200 or even more. Furthermore, a gig bag for electric guitar tends to be more expensive than an acoustic guitar gig bag due to the added protection that electric guitar requires. For example,
Fender electric guitar gig bag (FE610): $79.99
Fender acoustic guitar gig bag (FAS405): $39.99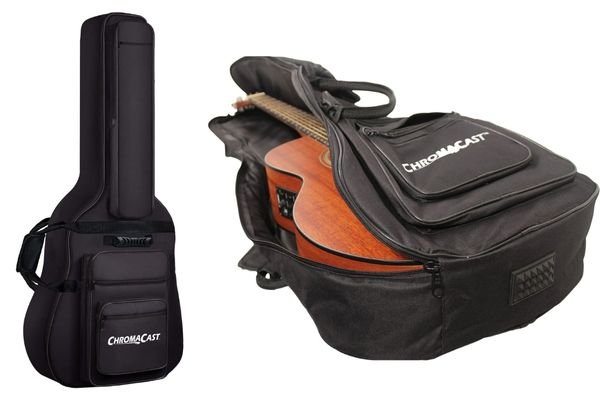 Gig Bags: Average Price (Brand-wise) 
Here are the average price ranges of some popular gig bags:
Gibson Acoustic Guitar Gig Bag: $60 to $100
Taylor Deluxe Acoustic Guitar Gig Bag: $70 to $150
Gator Deluxe Electric Guitar Gig Bag: $50 to $80
Deering Deluxe Electric Guitar Gig Bag: $100 to $200
SKB Deluxe Electric Guitar Gig Bag: $100 to $200
Are Gig Bags Safe?
Whether traveling to a gig or needing a safe place to store your guitar, a gig bag is a convenient solution. But there's always a question in our minds, 'will a gig bag protect my guitar?' Well, I have good news and bad news.
Good news first, gig bags are relatively safe for your instruments as they are designed with thick padding and robust materials, like nylon, to keep them secure. Most gig bags have adjustable straps and compartments to keep your guitar in place, preventing it from moving while you're on the move. Additionally, quality gig bags are made of weather-resistant materials, which keep your axe dry and safe from moisture changes.
The bad news is they're not designed to withstand severe bumps and dings, hard slashes, stashing, or any extreme conditions, such as extreme cold or hot weather. So, if you're traveling with your guitar or transporting it, a gig bag is not sufficient, whereas quality hard cases are a must for adequate protection. I recommend investing in the best hard case for optimum protection or the best flight case if you're traveling by plane.
What Makes Guitar Cases Expensive?
Several factors contribute to the answer 'how much does a guitar case cost.' Let's find them.
1. Material and Quality
Cases can be made from various materials such as wood, molded plastic, or fiberglass. The type of material used will significantly impact the price of the case. High-end cases are usually made from wood or fiberglass, both expensive materials. The average price of a high-end wood or fiberglass guitar case ranges from $200 to $400, compared to the average price of a molded plastic case, which ranges from $50 to $100. 
2. Protection Features 
The protection offered by a guitar case plays a significant role in determining its cost. High-end cases often come with extra features such as reinforced corners, weather-resistant exteriors, and shock-absorbing interiors. These features offer the ultimate protection for the guitar, regardless of the havoc that occurs. These features add to the cost too.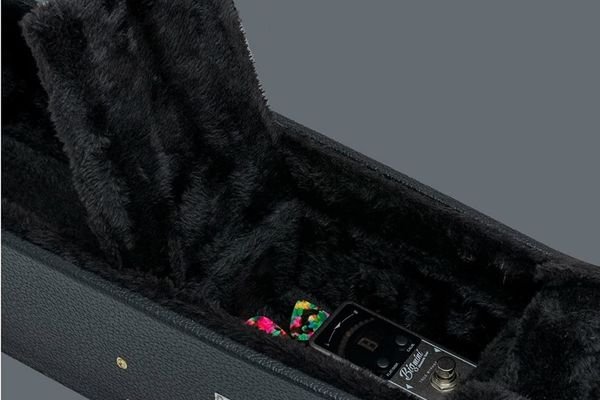 3. Design and Style 
Guitar cases can come in a range of designs, from plain and simple to flashy and stylish. Unique design and style statement comes at a cost, and those guitar cases are ideal for guitarists who do not compromise on flaunting style.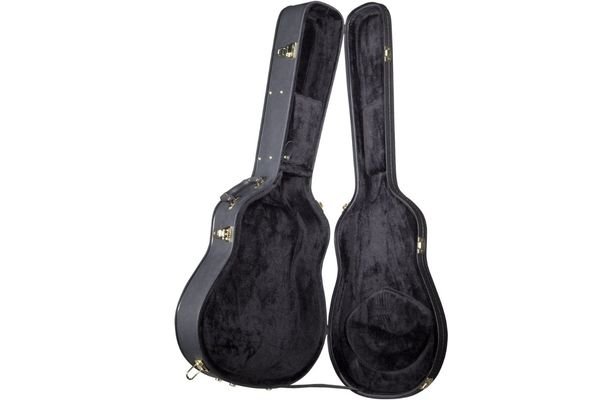 Is A Guitar Case Worth It? 
The answer is a big YES! Whether you're a beginner or a professional, you should invest in a quality guitar case. Let me tell you how a guitar case can be worth it.
A quality guitar case provides maximum protection from scratches, dents, and other damage during transport.
A guitar case protects your guitar from humidity and temperature changes, ensuring it will sound as good as it did the day you bought it.
With a case, transporting your guitar is easy and convenient, as it provides a sturdy and secure place to store it while you're on the go.
Guitar cases not only protect a guitar, decent guitar cases are stylish and, at the same time, protect the guitar. A guitar case would best reflect your lifestyle.
Final Thoughts:
Now that you know everything about how much does a guitar case cost, you can understand that the cost of a guitar case is a small investment that provides a big payoff in protecting your guitar and keeping it in pristine condition. At the same time, keep in mind that a higher price tag does not always guarantee better quality. That's why choosing the guitar case that best protects you based on your usage is better than getting the best value for money.