Guitars have different price ranges depending on the player: professionals or first–timers and the guitar type (acoustic or electric). People always ask me, how much does a good guitar cost? Before getting to the answer, let's define what is a "good guitar". Well, it depends on many things, generally speaking, whether you are a professional or first timer, buying an acoustic or electric, it's the guitar that performs on par with expected tonal quality, construction, or playability that can be termed as "good guitar".
However, a "good guitar" does not mean that only pricy guitars are the only best options. You still can buy guitars that packs a punch at a reasonable price. I can name some good guitars like the Fender Sonoran Mini or Epiphone EJ-200 SCE that has a good sound quality like some of the expensive guitars but comes at an affordable price.
We all hear about how expensive guitars can be, but the truth is that most good guitars cost far less than you might think. Even my high-end models like Fender's Telecaster and Gibson's Les Paul Special Tribute P-90 only set me back about $500 – $1000. There are also plenty of entry-level options such as PRS SE-P20, Epiphone Les Paul Melody Maker E1 for anyone looking to get started in the world of guitar.   
Read on to learn more about price range for different types of guitars including Acoustic, electric, hollowbody, and semi-hollowbody guitars that are available in the market today, other must-know details on how much does a good guitar cost. Let's get started!
How Much Does A Good Guitar Cost?
Some special features, such as tuning stability, string height, laminated or solid top, etc., may add to its pricing. For example, YAMAHA FG-335 has a laminated top and comes at $195, while with a solid top, YAMAHA FG-800 comes at $229. Moreover, personal preferences like specific tonal quality, body size, style, and weight also make a difference in the prices of a guitar. Like, Gibson ES-335 Satin Cherry belongs to the warm tone group for $2999, while Gibson G-45 comes with a bright tone for $999. So, it's better to know what you need before you start looking for a good guitar.
However, it's tricky to put an ideal guitar price range. Take John Petrucci from Dream Theatre, who played an Ernie Ball Music Man JP6 priced at $2500-$4000. When I started, I used the YAMAHA Pacifica 112V electric guitar, that cost around $300. It comes with amazing build quality, superb tonewoods, and well-constructed hardware. Moreover, the sound quality is top-notch, which you normally can't find even in some expensive guitars.
From all these years of guitar playing experience, I've put on a detailed discussion below about the price ranges of acoustic and electric guitars from entry-level to high-end guitars. I hope this will help you. 
Related Post: Why Are Gibson Guitars So Expensive
What Is The Average Price of A Guitar?
All aspiring guitar players can find the right guitar at a range of prices that fit their budgets. A guitar can cost as little as $100 or as much as $10,000. You may want to consider a cheap guitar if you are considering buying the first guitar and are not sure whether you will stick with it. In contrast, if you're committed to the long haul, you should go for a good all-round guitar.
But what exactly determines the price range of a guitar? Some significant factors like manufacturer, build quality, wood type, metal components, etc., affect the guitar's pricing. In my experience, most guitarists, with a bit of experience, spend between $500 and $1,000 on their instrument. Since the price of a good guitar depends on guitar type:  acoustic or electric, below I talked about all the details you need to know about price for both type of guitar from beginner to professional level. 
Related Post: Why Are Suhr Guitars So Expensive
How Much Does An Electric Guitar Cost?
Here are the three categories of electric guitars and their price ranges. This'll give you an idea of price for your first or next electric guitar.
Entry-level Electric Guitars:
Entry-level electric guitars are a good choice for beginners. These are the most basic level electric guitars that are mass-produced using relatively low-cost materials. But what's the cost of an entry-level electric guitar? They typically cost between $200 and $400. If you are a beginner, I recommend not spending more than $400, as these entry-level guitars that are enough to learn the basics.
Yamaha Pacifica Series PAC012DLX [Best Entry-level Electric Guitar]
Mid-level Electric Guitars:
When you are already experienced with an entry-level electric guitar and thinking of leveling up, you should go for mid-level electric guitars. These electric guitars have better design, better wood quality, and of course, better sound. With this type, there'd be only one step left for you to be a professional guitarist. A mid-level electric guitar's price ranges from $450 to $800, and the quality may come close to some professional guitars.
Fender Player Stratocaster Electric Guitar [Best Mid-level Electric Guitars]
High-end Electric Guitars:
An expert or professional guitarist always looks for high-end electric guitars. This type isn't suitable for hobbyists in any way. These guitars are iconic and known for their build quality, superior design, outstanding materials and these factors play a significant role in the pricing. Moreover, brand name also plays a role in the cost of a high-end guitar. The price range for a high-end electric guitar is $1200-$4000.
Fender American Professional II Telecaster [High-end Electric Guitars: ]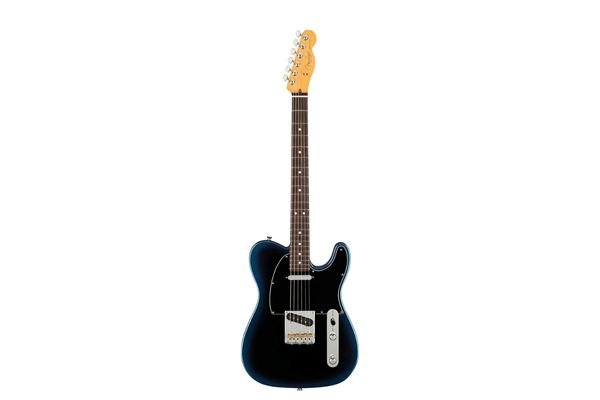 How Much Does An Acoustic Guitar Cost?
Let's take a look at the three categories of acoustic guitars and their prices so you get a clear view of the price range of acoustic guitars.

Entry-level Acoustic Guitars:
The average cost of an entry-level acoustic guitar is between $100 and $300. Mostly, they are produced in Asian countries like China and Indonesia. These guitars often have laminated wood bodies that do not resonate well enough. You can even find an acoustic guitar for $50, but I don't recommend using those since they come with poor sound quality.
YAMAHA FG800 [Best Entry-level Acoustic Guitars: ]
Mid-level Acoustic Guitars:
Mid-level acoustic guitars will cost you between $400 and $800. You'll start to get better quality in this type than entry-level guitars. For instance, the wood would be high quality with better cut and condition. Additionally, they'll have enhanced durability, resonance, as well as tonal characteristics. Considering these features, mid-level acoustic guitars are a great choice for more experienced guitarists than beginners.
Seagull S6 Original Acoustic Guitar [Best Mid-level Acoustic Guitar]
High-end Acoustic Guitars:
High-end acoustic guitars start from $1000 and can go even up to $5000. This type isn't suitable for average guitarists; it's totally for professional use. In this type, you'll get a better body with premium quality woods like maple, rosewood, and mahogany. Compared to lower-priced models, there is also a difference in visual appearance in high-end acoustic guitars. If you look at it, you can clearly see how beautifully the wood is constructed. Moreover, the finish, sound quality and build quality; everything will be in the best quality.
Martin d-28 [Best High-end Acoustic Guitar]
Average Price Of A Guitar
The price of a guitar depends not only on its build quality or components but also on the brand. There are a lot of brands in the market, and it's not possible to categorize all of them. Here I'm giving a price range of acoustic and electric guitars of some popular brands.
Electric Guitar:
Gibson: $1800-$3000
PRS: $1300-$2800
Fender: $500-$1500
Ibanez: $400-$1500
Epiphone: $400-$800
Acoustic Guitar:
Taylor: $500- $2000
Martin: $1000-$3000
Gibson: $1500-$2500
Yamaha: $200-$400
Fender: $450-$1200
How Much Is The Cheapest Guitar?
You always don't have to spend a fortune on a guitar. For a guitar that teaches the basics and helps you advance, here's how much you need to spend as a beginner. At first, we'll take a look at the price of the cheapest acoustic guitar, and then we'll go for the electric guitar.
Rogue RA-090 Dreadnought is the cheapest acoustic guitar available on the market. The Dreadnought gives an ample resonance with a robust sound and comes only at a price of $75. This guitar doesn't have a perfect fit and finish, but this is to be expected at this price. Mainly, it's a basic type to let you get started.
For an electric guitar, Epiphone SG Special Satin E1 is one of the cheapest good-quality guitars out there. Although its cheap at $199, this guitar comes with slim neck and open-coil humbucking pickups that eliminate electrical hums and other unwanted noises! These qualities make the Epiphone SG Special Satin E1 suitable for beginners.
How Much Does A Good Guitar Cost: Conclusion
A decent acoustic or electric guitar will set you back by at least a few hundred bucks. That being said, as with any other instrument out there, you get what you pay for. A cheaper guitar will have substandard sound and craftsmanship compared to an expensive model from the same brand. However, that doesn't mean you have to settle for second-rate equipment if you are short on budget. There are some great mid-priced guitars out there. Moreover, you can find a good deal on a used guitar. So, what I recommend is to start with something inexpensive and upgrade as you go along. Thanks for reading.
How Much Does A Good Guitar Cost: FAQ
Are expensive guitars worth it? 
Yes. Definitely expensive guitars are worth it. The build quality, materials, sound quality, aesthetics, etc, are usually far better in an expensive guitar than a low-priced guitar.  
How much to spend on the first guitar? 
For your first guitar, I recommend spending between $100-$400. Spending more than $400 on the first guitar won't be ideal as you are a beginner.