"Don't judge a guitar case by the looks of it; buy guitar cases based on your need, usage, and the music lifestyle."
Hi, this is Patric, a guitar enthusiast. In my career as a guitarist, I got my hands on a flux of guitars, a bunch of them decorating my shelf, and I am proud of my collection. To date, I have taken great care of each of the guitars. Like any other instrument, guitars are fragile and prone to damage. Guitars are expensive too. If you don't take care of it, you may end up losing it. A perfect guitar case can best protect your guitar. So, it is vital to choose a perfect guitar case. This article is all about guitar cases and gig bags buying guide.
What is, in fact, a perfect guitar case?
It is all about choosing a guitar case that can protect your guitar according to your usage, suits your need, and the type of player you are. For example, what type of guitar case works best for you- a hardshell case or a gig bag? If you move with your guitar around town, do not intend to fly with your guitar, and prefer a lightweight solution nice protective gig bag is okay. But if you are a professional guitarist who moves around the states for shows, you need a highly protective hardshell case.
If you are a beginner, finding the perfect guitar case is a challenging task. I have come across many pieces of advice and information and found that many are confusing and often misleading. So, you can buy a perfect guitar case that suits you; I am sharing my views in this article to guide you through.
How to Choose a Guitar Case?
Choosing the perfect guitar case depends mainly on the type of guitar player and your musical lifestyle. How much are you on to music? A professional guitarist goes to many gigs where the guitar will be handed and packed by many, like an aspiring professional who goes up for occasional gigs. Or you are a beginner, practicing at home often play with friends, practice, take the guitar on outings. What case will suit you depends on that much.
Having said so, no matter what type of player you are, you must protect your six strings from dust and bruises. Or, however, your skill level is now, playing small gigs, open mic sessions, join a band on the stage, a guitar carrier is a must-have for you to protect your acoustic or electric guitar.   
If you want to buy the perfect case for you, you need to know the guitar case essentials like different types of cases, their usage, cost, building material, safety features etc.
Different guitar cases are suitable for various purposes. Let's discuss them first. We will discuss a lot more about guitar cases in this article. Hang tight.
Do You Need a Guitar Case?
Yeah, sure you do, no huss, no fuss! You need a guitar case if you want to take your guitar out!
Are guitar cases there to safeguard your six strings from damages or weather? Undoubtedly, your guitar needs protection. There are plenty of guitar cases favorable for small gigs, traveling, touring or roadshows, etc. If you can choose the perfect one, your life will be easier, and you will carry the six-string and protect it accordingly.
If your guitar is low-cost and you prefer to carry it all the time, more affordable guitar cases are the best option to go. But you will need one, that is for sure.
The only reason you don't need a guitar case is that you don't plan to move it outside, not even to the music store for maintenance. Otherwise, you need a guitar case.
How We Decided
128
Products
Reviewed

26
Total Hours
Researched

3
Experts
Interviewed

12
Brand
Reviewed
Types of Guitar Cases:
Soft Guitar Cases Or Gig Bags
Here's what they offer:
Outer cover-nylon/polyester made
Interior- soft padding
Pockets for carrying accessories
Carrying handle
Backpack straps
External pockets
Gig bags are padded, soft-sided bags to carry your favorite guitar. These are lightweight and easy to carry, may offer less protection than hardshell cases. The exterior is typically made of leather, nylon, polyester, or any mix of these materials. It comes with carrying handles and shoulder straps. Most of them come with backpack-style straps that allow hands-free carry so that you can do other things like riding a bike. Most gig bags come with spacious external pockets for accessories like sheet music, straps, cables, and some are spacious enough to carry a tablet.
Suitable for:
Traditional thoughts on gig bags: cheap, lite, offers little protection, suitable only for cheap guitars are long gone. Nowadays, gig bag brands such as GruvGear, Mono or Fusion, produces soft bags like gig bag that are not only lightweight, on top of it they offer top-notch protection. There are low-end cheaper gig bags available too.
Gig bags usually price range from $10 to $300. The high-end gig bags offer more protection while you carry your guitar on the go. Gig bags are there so that you can take your guitar to the gigs; it's the best option for you unless you plan on hand carry it all the time. If you need to load the guitar into a vehicle often, there is a possibility of heavy bumps, DO NOT go for Gig bags then. If there are chances to fall or there are chances that somebody may pile heavy things over it, gig Bags are a complete No-No.
Which type of guitar case to buy? If you are still confused, here is a detail comparison between Gig Bag vs Hard Case
Flying With a Gig Bag:
Since it's lightweight, you may lean towards carrying it on flights, considering authority will allow lightweight bags than the heavier hardshell case. It may not be the way you think. If you don't get the opportunity to "carry on" your guitar with you and check the guitar as luggage, the authority may not allow gig bags. If somehow you got permission, there is a high chance that the guitar may damage due to heavy piling or luggage mishandling. There are some flight-compatible hardshell cases you need to buy.
Pros:
Cheaper options available, if you are on a tight budget
Lightweight
It comes with a shoulder strap or backpack straps
Spacious external pockets for accessories
Cons:
Offer less protection, especially the cheaper ones
Attracts dust
Not suitable for extreme weather conditions
It can be a hassle while air traveling; you will regret it if you have to luggage/gate check forcibly.
Hard-Shell Guitar Cases
Here is what they offer:
Wooden/ plastic/ any hardshell exterior
Padded /plush lining interior
Interior compartment for small accessories
Lock and key
Handle to carry
Compared to soft cases:
Enhanced protection
Heavy
Less storage
On the contrary to gig bags, the hardshell cases have a rugged and durable exterior made of solid and heavy-duty materials like wood, molded plastic, or carbon fiber. In the interior, they are soft and padded, textured with plush fabric. Hard cases are built to safeguard the guitar from any significant impact or bumps and bruises. Hard cases usually have an internal storage compartment for not-so-big accessories. Hardshell cases come with a solid handle to carry the case, and some models have shoulder straps. There are hard cases that have easy-glide wheels so that you can move them easily.
In terms of build material and purposes, hard cases have four sub-types. They are:
Hardshell Wooden Guitar Cases
Molded Plastic Cases
Road Cases
Hybrid Guitar Cases
Wooden Guitar Cases
The name suggests exterior of a wooden guitar is produced with wood material. It has a classic vibe. Wooden guitar cases usually use plywood, lawn wood, or solid wood as the exterior. But the recent trend is swaying away from the iconic wood and using more durable materials. These wooden guitar cases are formed with ¼" plywood with Tweed/ Tolex wrapping. Tolex or Tweed wrapping makes a hardshell case water-resistant.
Suitable for:
Wood cases are for day-to-day transportation, such as going to coffee shop sessions, trips, etc. They can bear bumps and bruises on the road. Let me tell you; they are not very heavily built. So, you have to be careful while traveling and keep an eye on your case for any structural damages in the latches, hinges, or handle.
These kinds of cases are not a good option for air travel. You cannot carry it yourself, which means either you have to gate-check the wood guitar case. If the luggage conveyors handle the case recklessly, damages may occur! Apart from that, these guitar case does not come up with TSA recognized lock that has become a rule for flying with guitars.
Pros:
Not too pricy
Decent durability
It offers enough protection against any bumps
Protective enough against extreme weather conditions or dust
Cons:
A bit on the heavier side
The Hardwares, latches and hinges, are not usually premium quality
Not convenient for flight
Molded Plastic Guitar Cases
Molded plastic cases use ABS or polyethylene as the exterior. These materials are sturdy and heavy, and at the same time, can brace impacts happily. High-end plastic cases use fiberglass or carbon fiber and offering thermal insulation with Thinsulate barriers. Many molded cases are air-tight or water-proof for outstanding protection against extreme weather, dust, or accidental fall in the pool. You can get flight cases that come with TSA locks, wheels-in built to easy maneuvering through the airports.
Let's discuss the variations of plastic cases:
ABS/Molded Plastic: Heat and impact-resistant, light
Fiberglass: More durable than the ABS plastic
Carbon fiber: High-end cases use lightweight carbon fiber, some of them equipped with hygrometers to monitor interior humidity levels.
Suitable for:
These molded cases are versatile, with plenty of options. Low-end plastic cases can protect your guitar in day-to-day use, such as carrying it to friends or carrying it to open mic sessions, etc. They are built to brace significant impacts but may not take in the hardest ones. On the other hand, the best-in-class brace any kind of impact. Fiberglass, carbon fiber-made cases are the most expensive, but they offer protection that you can expect from a premium guitar case
All Molded Cases are "Flight Cases"?
Since the molded cases are made of lightweight plastics, many people confuse them with flight cases. Flight cases are exceptional guitar cases specially built to take your guitar during air travel. Apart from that, flight cases have some extra perks that sustain probable rough handling as luggage.
Lookup for terms like "flight case" in the label to quickly find out one. If it has a TSA-approved latch, you are good to go. Now you can be confident to check in the guitar at the gate or as luggage with an assurance that it will survive any handling on the way. In case of inspection, no authority will break into your guitar case. Of course, no guarantee can be given, but a pricier flight case is your best chance to survive any mess. If you aim to fly with your guitar, here are some tips you must know.
Pros:
Fairly priced (the budget ones)
Lightweight (some are lite than the wooden cases, depending on models)
Sturdy and heavy built (depends on usage)
Offers fair protection (the budget ones too)
Enough protection against extreme humidity, temperature, and dust
Cons:
Most durable flight cases are too heavy
Hinges and latches in the budget models are not so good
Higher-end cases are too expensive
Road Guitar Cases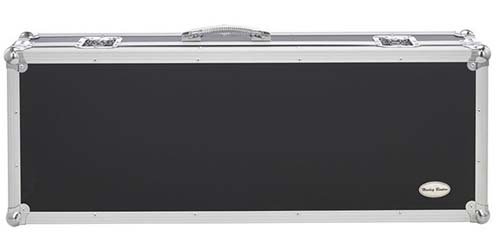 Road cases are sturdily built for many tours and offer optimum protection. The road cases are there to keep your six strings safe while on tour. These cases are trustworthy to provide safety during lengthy transport by air, vehicles like bus, truck, or any combination. Road cases are everywhere you will find during stage preparations, big gigs, and pro tours. Here are some must-know tips before you start traveling with your guitar.
The road cases embody an exterior of around 1/4″ plywood, the same as wooden cases have. On top of it, the road cases come with optimum protection by thick layers of rigid PVC or materials with similar properties chosen by manufacturers. This layer enhances the plywood's strength and makes it more durable to last long. No edges are left unprotected with a rich coat of aluminum sealed up thoroughly. This aluminum coating makes the case sturdy and long-lasting. Corners are made sturdier with steel caps, and the hardware is made out of heavy-duty metals.
Suitable for:
Road cases are suited to musicians who need to attend tours and usually have a road crew. The striking feature is its weight. The weight of a road case ranges from 25-35 pounds when empty. Just imagine the weight with the guitar in it. It may require the help of others to move it around. Road cases are on the pricier side, obviously more than $500. The name denotes that these cases are the heaviest and most durable of all. Whatever the impact is, the road cases will brace it while no damage is done to your guitar.
Pros:
Top-notch protection against any impacts
It will sustain against extreme temperature, humidity, and dust
The best option for travel, but it requires multiple people to move it around
Cons:
Monstrously heavy
Expensive, especially high-ends
Hybrid Guitar Cases
What They offer:
Light and soft exterior
Sideways opening for easy access
Backpack straps
Spacious outside pockets
Plush-lined interior
A hybrid case is a combination of gig bags and hard cases. It's included with the necessary features of both types of cases. The exterior is soft, just as the gig bags are. The interior is like a hard case built with foam, plush with lining. These cases offer protection as a hard case does.
Hybrid cases have a long-lasting zipper to open and close, as you can find on gig bags, and an ergonomic grip over the handle to carry. It also comes with shoulder and backpack straps and a spacious pocket like a soft/gig bag. These hybrid cases have foam padding, multiple internal and external accessory compartments and often come with a strong carrying handle.
Suitable for:
These cases are lightweight. This type is made for the people who want to enjoy the light gig bag, at the time, conscious about protection against mild to moderate impacts that is too much to handle for a gig bag. But note that the hybrid cases cannot sustain an impact that wood or molded case can. So, the best use would be general transportation for maintenance, gigs, trips, etc. Remember that the hybrid case may not protect your guitar if it falls from above, or other things might fall upon it, or leave it to chances that the guitar case may get stacked by any staff.
Hybrid cases are not a good option to use while traveling, just as the gig bags; I recommend using a flight case instead.
Pros:
Cheaper
Lightweight
Offers more protection than gig bags
Equipped with shoulder strap or backstraps
Outer storage pocket
Interior storage compartment
Cons:
Less protection for severe impact
Less protection offered against dust
Not much protection against extreme weather conditions
Not flight friendly
Double Guitar Cases
We often need to carry a second guitar, especially for stage or studio performances. But moving with two guitar cases is annoying. The double case can be a fantastic solution to this problem. This type of case comes as a hybrid or hard case, but it can be surprisingly rugged yet lightweight. However, some of them are way much heavier, ultra-durable, road-ready cases. If you buy one, be cautious about choosing something that suits your need.
Why Are Guitar Cases So Expensive?
If you bought a brand-new guitar, purchasing a separate guitar case may seem like an unnecessary expense. These guitar cases are expensive indeed. It is not even part of the guitar and not a fun thing like a capo or an amplifier. But why are guitar cases expensive? The answer is simple- material costs are high with added shipping costs for imported materials.
For now, let's discuss the material first,
Expensive materials
Wooden Cases:
Wood cases use plywood covered in Tweed or Tolex, and the interior uses soft padding or a plush material.
While plywood is not strong enough as a wood-core case, they are relatively cheap, but these are strong enough to brace mild to moderate impact. Wood cases are better than plywood cases and more durable are pricier than plywood. They offer adequate protection best for high-end guitars on the market.
Molded Plastic cases:
Molded plastic cases generally use ATA certified molded plastic or ABS plastic that are stronger and durable enough to brace mild to moderate impact, offer more humidity control, and may equip with a TSA-approved lock. They are typically expensive.
TSA-approved lock:
A TSA latch comes with a lock that unlocks with a master key. It's different than the standard metal case latches. These locks and key system is expensive. If you are traveling by air a lot, these are worth the cost it bears.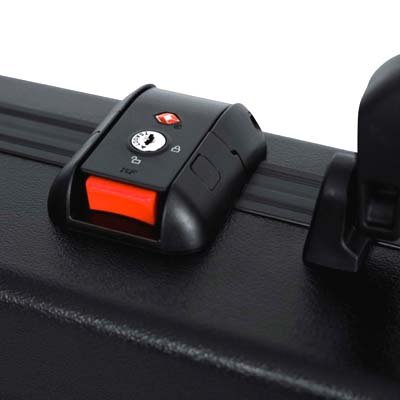 Other hardware: Hinges and Latches
Quality hinges are essential for the longevity of a guitar case. You may not notice initially, but the hinge secures the point where the signs of damages occur after a few months of use. Due to the high usage, guitar cases are expensive. High used products require heavily built, durable, and made to sustain damages. Many hard cases feature premium hardware that costs a premium price.
High-end gig bags are expensive
High-end gig bags are made with premium materials like canvas, heavy nylon, or leather. Often there is premium padding inside. Decent gig bags are stitched with high-quality thread, proper finishing, user-friendly and long-lasting zippers.
Often people drop their jaw hearing the price of a reasonably decent gig bag. Premium leather gig bags are there, usually price range $400 – $500. Many guitar lovers are willing to pay much higher prices for the quality these cases offer, optimum protection these cases provide to the guitars, and made-to-last-long.
How Much Should You Spend on a Guitar Case?
There are some general rules on how much you spend on a guitar case known as the 'rule of thumb.' It is:
Between 6% – 15% of the new guitar cost
Although buying a case depends mostly on the needs, and type of guitar, usage like touring, occasional jamming, or coffee shop sessions. However, the usage, let us breakdown the rule of thumb for you so that you have an idea how much you should spend:
| Total Guitar Cost | Low-End Case Cost | High-End Case Cost |
| --- | --- | --- |
| < $500 | $30 | $75 |
| $500 – $1000 | $60 | $150 |
| $1000 – $2000 | $120 | $300 |
| > $2000 | $200 | $500 |
How to Measure Guitar Size
Whatever guitar cases you need or like, I strongly recommend that you measure your guitar's dimensions before buying one. To do that, you will need a measuring tape and cautiously measure the dimensions as suggested below.
Then comes the four different body measurements: the upper, middle, and lower bouts and body length.
The lower bout: Run a measuring tape through the lower portion below the sound-hole (placed near the curve that meets the bottom). The lower bout usually has the widest part), but it is not the case for every guitar.
The middle bout: Measure the middle bout located near the sound-hole.
The upper bout: Run a measuring tape through the guitar along the most expansive curve
Body length: Measure the tap to toe of the guitar body, leaving the fretboard and headstock
Overall length: Measuring the headstock to the bottom of the lower bout. It's a very common measurement you might have.
The above measurement will help you choose the perfect case—only lookup for those cases that meet the measures. Unless you might end up buying a good-looking case but you may have to lose it sooner as it does not fit properly. A "snug-fit" is ideal that means not too tight, or the guitar moves inside the case.
The diagram below will help you measure the guitar correctly:
Lower Bout
Middle Bout
Upper Bout
Body Length
Overall Length
What Should I Look for in a Guitar Case?
Let me sum up what you should consider before selecting The guitar case:
Model fit: Some guitar cases fit a particular model or guitar types such as Telecaster/ Stratocaster or Les Paul guitars. Some are custom-fit, or one size fits all. Its usually mentioned as a feature of a case. If nothing is mentioned, you may measure your guitar as mentioned in the 'measure your guitar size' section and match it with the guitar case specification to ensure your guitar fits properly or "snug fit" your guitar.
Protection: Does the guitar case offer the protection that you need? Some guitar cases are best for home storage or moving around town; some can take rigors of the road, some are flight compatible. Buy a guitar case according to use and mode of transportation. Usually, the construction material used for exterior and interior combinedly determines how protective is your guitar case. Solid wooden, ABS plastic molded, or fiberglass exteriors cases are shock-proof, offer premium protection, and brace any impact. Exterior using plywood or lawn wood can protect against mild to severe impact. Bumps and bruises or dings. Thick or dense foam padding and plush lining interior cushion your guitar and protect it. The thicker the foam padding, the better protection it offers. Usually, gig bags don't provide top-notch protection. Still, some premium gig bags offer protection equivalent to a decent hardshell case.
Heavy-duty: Since hard cases are expensive, you want them to be heavy-duty. Usually, guitar cases using superior exterior, interior and hardware material, and the fitting is superb; those hardshell cases are generally last long and offer value for money. Heavy-duty gigbags use high-quality nylon or polyester fabric and long-lasting zippers.
Hardware: Hardware in a hardshell case includes latches and locking systems, hinges. Premium cases use premium quality hinges, TSA approved 'trigger release' system locking latch. Apart from the interior and exterior, the hardware also contributes to the durability and security of a guitar case. Many guitar cases include Chrome latches and hinges that are stainless and rust-free. If the hinges and latches are broken, the guitar may fall out and get damaged. Make sure your guitar case uses decent hardware so that your guitar case is durable at the same time; you will feel secure with the guitar in the case. Gigbag uses zippers. Since you will zip and unzip frequently while using the bag, make sure it's heavy-duty.
Neck Support: The neck and headstock must be comfortable while in the case. Some guitar case has an internal compartment that serves as additional neck support; some have neck pillow or extra padding to hold the neck into position securely. Neck and headstock damage is widespread, and the reason you are buying a case is to ensure that it does not occur. Gigbag typically is a soft bag and does come with any neck support.
Flight Considerations: If you live in the USA and need to travel by air with your guitar frequently for music tours, I recommend that the guitar case should sustain the tussle of air travel. A TSA-approved lock is a must-have feature for you; otherwise, during an inspection, TSA personnel may break into the guitar case if deemed fit to them, causing severe damage to your guitar and the guitar case. I recommend plastic molded ATA flight hardshell cases for air travel. Make sure to check the airline policies that explains whether and how the guitar travels with you.
Case Weight: Many people prefer lightweight cases. Yet it's all up to you: what weight is good for you? If you have lots of gigs to attend or occasionally have to long walk with the guitar. Lightweight molded plastic cases or lightweight gig bags are the best options if you are among those people. At the same time, consider how much weight you can handle? Is your guitar a heavy one? How much weight is comfortable for you? Weight consideration should not be applicable, or road cases are meant to be heavy-weight and not meant to carry often.
Accessories Compartment: Hardshell cases usually have an internal accessories compartment having space for smaller accessories like extra pair of strings, capos, tuners, etc. Some of the hard cases have more space. Check if the space fits your need. Typically gig bags have multiple external pockets for accessories. Some gig bag pockets are super spacious to hold a tablet.
Special features: there are some unique features you need to consider in case if you are living where it rains in states like Florida or any extreme weather condition; use hardshell cases with gasket seal air-tight and water-proof cases.
Final Words 
I intended to give you an idea of guitar cases to provide you with necessary and related information on guitar cases. I use a Mono M80, and I love it. I hope this article helps you to find the perfect one for you. Thanks for reading.
Guitar Cases and Gig Bags Buying Guide: FAQs  
What type of guitar cases do professionals use? 
My experience with professional musicians who attend solo, band gigs, or concerts love the high-end plastic molded cases mainly because these cases are lightweight and easy to carry. At the same time, it offers maximum protection and security. Some ABS/Molded plastic cases have IP67 certification; these are moisture-resistant. Professional musicians love this type of case, except for the musicians who attend roadshows and tours. They prefer heavy-duty road cases.
What is a gig bag? 
A gig bag is a lightweight and easily portable guitar case. It is designed specifically for the musician who prefers to take a lightweight guitar carrying case to the gigs. Usually uses materials such as leather, nylon polyester. High-end gig bags use premium leather.  
What materials do guitar cases use?
There are two types of guitar cases based on built type: gig bags and hard cases. Gig bags use nylon or polyester material cover; premium gig bags use foam padding inside. Hard cases use wood, molded plastic, fiberglass, or carbon fiber as exterior and. On the interior hard cases usually use foam padding, plush materials. 
What do hard guitar cases usually have?
The hard cases have a solid outer shell, interior accessories compartments, interior padding with plush lining, heavy-duty handles. Some of them come with shoulder straps. There are hard cases that are flight-ready and flight friendly, come with wheels to carry as luggage.
How much do flight-style guitar cases weigh?   
The weight of a flight case ranges from 5 lbs. to 26 lbs. The average weight of the fight cases is 6.5-12 lbs. The heavier ones are more durable may weigh 22-26 lbs. At the same time, lightweights weights ranging from 5-20 lbs. Some rare, durable models weigh up to 30 lbs. 
Guitar Cases and Gig Bags Buying Guide: Final Words 
I intended to give you an idea of guitar cases to provide you with necessary and related information on guitar cases. I use a Mono M80, and I love it. I hope this article helps you to find the perfect one for you. Thanks for reading.