Finding the perfect guitar case can be tricky. Trust me; I had not any guitar case that I regret buying. Usually, what happens is, that you might be impressed by the interior features and bought one, then find out that although the guitar is a snug fit to the case, the exterior is not durable enough for the roadshows. Since the guitar hard case is on expensive sides, throwing them and replacing them is not a good option. So how do I pick those perfect cases? That is where I have researched find these 9 essential things you need in a guitar case. In this article, I am sharing my thoughts. Hope you don't regret buying a guitar case either.
1. TSA Approved Locks & Latches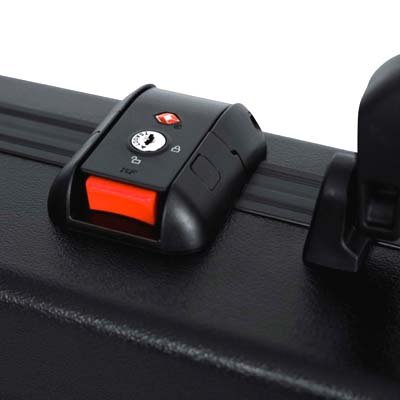 Since air travel saves an awful lot of time and is a convenient way to move around the States, TSA-approved latches and locks are a must-have these days if you travel by air. Schedules for professionals these days change so frequently that no one never knows when they may have to be on board without notice. Even though a beginner, you may opt for flights now and then. TSA latches and locks ensure that your locks won't be broken if inspected by TSA.
See also: 7 Must-Know Tips For Traveling with a Guitar
I haven't lost any guitar or damage during inspection; since I make sure my case has a built-in TSA lock, so no worries on my part. I have learned from guitarists that many guitar cases were broke into for inspection by TSA. A TSA-approved locking latch attached to the hardshell case is highly recommended to avoid such horrible circumstances.
.
2. Snug fit of the instrument
How fit is the best fit? Ideally, the case should fit your guitar like a glove unless your guitar will move inside the case; consequently, chances of damage increase. There are cases in the market that are built explicitly for specific models and fit accordingly. If you don't find one like that, accurately measure your guitar's length, width, and depth and choose a case with a similar body dimension.
What you should look up for is there is little to no movement while the guitar is inside. If there is no slide back and forth, it's okay! The flexibility should be less than 2cm/1″ or one-finger Space. If so, you can call it a 'snug fit. 
3. Lightweight
We don't like heavier accessories. Let alone a hardshell guitar case, it is large compared to other accessories that we use, so it's better if its weight is lighter. No wonder heavy-weight guitar case turns into the burden, and we tend not to use it frequently. But the fact that lightweight cases do not offer protection like heavier cases. But there are cases from third-part producers that are lightweight but perform superb and enduring protection. All you need to do is make sure it's not too heavy to become a burden that you don't like to carry as you need. 
See also: Guitar Cases and Gig Bags Buying Guide 
4. A Comfortable Handle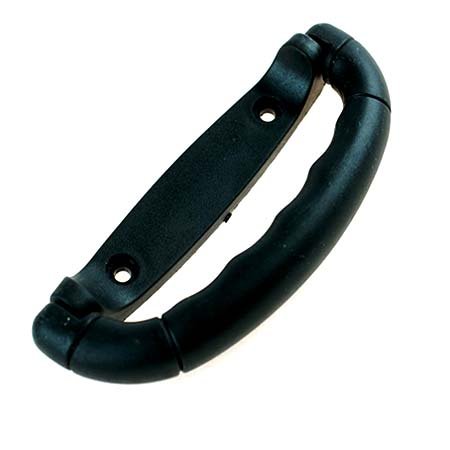 Handle in guitar case is often overlooked; most people emphasize durability, build quality, and material. Indeed, protection features are of prime concern. But the necessity of a comfortable handle is felt by professionals who frequently move with a guitar. A flimsy handlebar is annoying causes much trouble instead of making it enjoyable.
Many premium hardshell cases often disregard the need for a comfortable grip. On the other hand, many guitar cases offer ergonomic, soft, cushiony, rubber over-molded, or leatherette handlebar. These are amazing to hold, make your life easier. Some felt like a feather while on the carry. Make time to peek into the handle feature, make sure comfy and cushiony, undoubtedly a handy feature that you should not overlook.
5. Durability
The sought-after feature in a guitar case, we desire it to be tough and enduring. The durability of a guitar case depends on the type of material used and the overall construction of a hardshell case, the interior and exterior combined. If anything goes awry, the guitar case might not be heavy-duty as we expect.
How durable should be your guitar case? That depends upon your usage. Will you take it on the roads? Are you a frequent air traveler? Luggage mishandling during flights or heavy stashing, movement, piling, or throwing around in roads and all its rigors can damage your guitar if the case is not built with premium material like molded plastic.
On the other hand, wooden solid core build cases are just fine for home storage and light transit. Another thing you should care about is the overall construction of the interior and exterior. Learn about the build quality of a guitar case so that you may buy a hardshell case that lasts long, so it is worth the bucks you spent!
6 Building material
Hardshell cases are made of plywood, molded plastic, or fiberglass materials. Wood outer-shell cases are heavier than the plastic, and the protection is excellent too. ATA-certified instrument cases or other military-grade plastic molded cases or premium fiberglass-made cases feature outstanding strength to give you peace of mind on roads and air transit. If you are up for local gig only or totting around town with your guitar, a solid wooden or plywood case will do the job for you. It will protect your guitar just fine.
Wooden shell cases often come with Tolex or Tweed wrapping for extra endurance and protection. Hardware also contributes to the overall construction of a hardshell case. For example, latches, hinges, and handles are premium quality and properly fitted. The interior is well-padded for a snug fit.
7. Plush Interior
Foam padded plush lining interior protects and pampers your guitar while inside a case. It saves your guitar from damage in situations of sudden impact, fall and makes an instrument case shock resistant. The high-quality plush lining keeps your guitar away from bruises and scratches. If you opt for a hard case, typically, soft and plush material inside the hardshell case is what you should look up. Most premium hard cases have excellent quality plush material, and many economic hard cases have a praiseworthy plush lining interior.
8. Water Resistant
It is a must-concern if you live around Florida or a tropical region where it rains 5 times a day, then you must be worried whether your guitar case is water or shock-resistant. You will be going out every once in a while, no matter what the weather is. Your guitar might get leaked with water and be damaged. Care for your case so that it can care for your precious instrument.
9. Internal Accessories Compartment
Most hardshell cases have an in-built internal compartment placed under the neck cradle or insides to carry smaller accessories like extra pairs of strings, picks, capos, etc. Many people would like to carry notes too. Your concern should be there is an accessory compartment, and it is spacious enough to fit in your accessories so that you won't need to carry a second separate bag.
Alternative to Hard-cases that's best for your guitar
Hardshell cases are known for par excellence protection. But needless to say, they are pretty expensive too. If you are on a tight budget, there is good news too. Some of the premium gig bags offer more than decent performances. The premium instruments bags are lightweight; many have unique, well-thought-out features that protect you no less than the hardshell case. You can find here the stylish, convenient, and protective gig bags to buy in 2021.
See Also: Gig Bag vs Hard Case
Final Thoughts
There are many hard-shell cases available in the market; not all of them are best for every guitar. I have heard that people buy the wrong products every day, attracted by the shiny side of a guitar case. Ultimately, replace them or throwing them away. So that the mishaps don't happen ensure that all the essential things are included in your guitar hard case.