Value for Money
Key Features
Arched top design
Multiple-ply wood exterior
PVC wrapping
Plush lining interior
Best Budget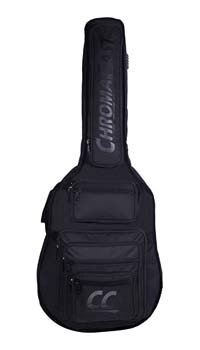 Key Features
Rudy Sarzo signature guitar bag
20mm dense padding with neck padding
Rubber bottom bumpers
Two backpack straps
Long-lasting zippers and double handles
Pockets
Writer's Choice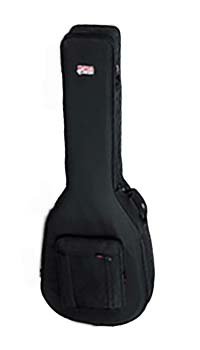 Key Features
Hybrid style case
Nylon exterior
EPS foam core and plush lining
Interior storage compartment and outer pocket
Nylon web carry handle
Removable shoulder straps
Best acoustic bass cases offer care and protection for the guitars; without it does not matter how careful you are, mishap will happen and leads to bruises. Acoustic basses are no exception. A guitar case must fits and protect your guitar however your usage. Only then you may relax between jamming sessions or gigs.
Choosing the perfect guitar case isn't an easy task at all. There are cheap to the high-end range is available for acoustic bass guitar cases with a variety of features. In this article, let me present you with the best value-for-money cases that are affordable and, at the same time, offer the best protection that your guitar deserves.
List of the Best Acoustic Bass Cases
1. Crossrock Wooden Case for Acoustic Bass Guitars-Black (CRW620ABBK)
Key Features
Arched top design
Multiple-ply wood exterior
PVC wrapping
Plush lining interior
It is a superb Crossrock case for acoustic bass featuring an archtop design that is far superior to the flat-top design and durable wooden exterior to protect your bass acoustic against damages and dings while in transit. The exterior is enhanced by tweed patterned PVC wrapping with "faux-leather" trim to offer you added protection. The interior is superior foam-covered plush material to save your guitar from scratches. There are four standard latches, one of which is lockable for your peace of mind.
Pros
Super strong arched top design
The durable multiple-ply wood exterior provides superb protection
Premium PVC wrapping protects against damages
High-quality plush lining interior
Cons
Latches made of cheap material
Specs
Item Weight: 15.4 pounds
Product Dimensions: 51.18 x 19.69 x 7.48 inches
Verdict
It's an ideal transit and storage case from Crossrock. Arched top wooden construction, plush lining interior gives protection to your guitar in transit and home storage. Tweed pattern vinyl wrapping adds additional strength essential for transportation.
---
2. ChromaCast Pro Series Rudy Sarzo Signature Acoustic Bass Guitar
Key Features
Rudy Sarzo signature guitar bag
20mm dense padding with neck padding
Rubber bottom bumpers
Two backpack straps
Long-lasting zippers and double handles
Pockets
It's a ChromaCast Rudy Sarzo signature guitar bag for acoustic bass guitars featuring a dense padded interior (20 mm) for top-notch protection for your gear. It comes with two backpack straps for hands-free carry while on movement and two handles to allow easy transportation. Zippers are heavy-duty, and of course, it comes with lots of pockets and compartments for all of your gears.
Pros
20mm thick padding with neck padding to offer superior protection
Rubber bottom bumpers add more protection to your guitar
Two solid and adjustable backpack straps
Long-lasting zippers
Double handles for easy accessibility
A lot of pockets to pack into your gears
Cons
Shoulder straps are thin
There is no hanger to hung the bag
Specs
Item Weight: 2.5 pounds
Product Dimensions: 44 x 18 x 5 inches
Verdict
It's a premium ChromaCast gig bag for acoustic basses. Its thick padding interior, rubber bumper protection, heavy-duty zipper, dual handle, adjustable backpack straps, and multiple pockets for accessories makes it travel-ready. Lightweight and ideal for travel and road rush- an excellent guitar bag that we highly recommend
---
3. Gator Cases Lightweight Polyfoam Guitar Case (GL-AC-BASS)
Key Features
Hybrid style case
Nylon exterior
EPS foam core and plush lining
Interior storage compartment and outer pocket
Nylon web carry handle
Removable shoulder straps
This Gator hybrid case for acoustic bass guitars features strong EPS polyfoam is a proper combination of best of gig bag and hard case. It is portable like a gig bag and protective like a hard case. The thick nylon fabric exterior is water-resistant. The interior is thick EPS foam padding with plush lining so that your acoustic bass guitar remains undamaged and free from bruises. A lot of space for accessories thanks to its interior compartment and two exterior pockets. It also allows hands-free and comfortable transport with a padded shoulder strap.
Pros
Durable nylon exterior
Thick EPS foam padding with plush lining
Spacious Interior compartment and outer pocket for accessories
Comfortable and robust carry handle
Shoulder straps for a hands-free, hassle-free carry
Cons
Backpack straps are poorly fitted
The interior is rigid
Specs
Item Weight: 9 pounds
Product Dimensions: 52.5 x 9 x 20 inches
Verdict
It is a roadworthy lightweight hybrid case that offers value for money case that you can buy today. It's a highly recommended case for you if you are into lightweight yet highly protective guitar cases.
---
4. ChromaCast Six Pocket Acoustic Bass Guitar Padded Gig Bag
Key Features
10mm thick padding interior
Six pockets
Velcro neck strap
Two backpack straps and two handles
Rubber bottom bumper
This ChromaCast padded gig bag fits moat acoustic bass guitars. The padded interior will give protection against sudden falls or bumps. It has many pockets that are enough for all of your accessories, from smaller accessories like a capo, tuner to gear like a tablet or laptop! The bag comes with adjustable padded shoulder straps, so you may decide anytime to go hands-free. Its multiple handles are easy to carry. Inside the bag, there are Velcro neck-straps to secure your guitar. Rubber bumper protection is there to protect your guitar from outside.
Pros
10mm padding interior that prevents bruises and dings
Multiple pockets to carry all your accessories and gears
Velcro strap to secure the guitar's neck
Two adjustable padded backpack straps and two handles
Rubber bottom bumper add to the protection
Specs
Item Weight: 2.6 pounds
Product Dimensions: 54 x 21 x 6 inches
Verdict
It is an affordable guitar bag that does the job for you. Ideal for moving it around town or travel on a bus, this bag will protect your guitar against wear and tear or sudden bumps. Made for on-the-go acoustic players, it comes with six pockets to carry all the necessary items.
---
5. Gator Cases Gig Bag for Acoustic Bass Guitars (GBE-AC-BASS)
Key Features
Nylon exterior
10mm interior padding
Reinforced interior at headstock and bridge area
Exterior pocket
Backpack straps
This lightweight gig bag features durable nylon construction and 10mm interior padding to protect against bruises. The headstock and bridge have reinforced security to hold your guitar perfectly and a super spacious outer pocket for all your music accessories. There are also backpack straps if you prefer to go hands-free while on the go.
Pros
Durable nylon exterior
10mm internal padding to protect your guitar from bruises
Reinforced security at the headstock and bridge area
Spacious exterior pocket for accessories
Adjustable backpack straps for hands-free transport
Cons
Padding is not firm and thick
The shoulder straps are not removable
Specs
Item Weight: 2 pounds
Product Dimensions: 50.75 x 19.5 x 7.75 inches
Verdict
It is a great gig bag from Gator. Super durable exterior and padded interior and an overall awesome construction gig bag to protect your acoustic bass. With added security at the headstock and bridge area, the bag offers premium protection at a reasonable price.
---
6. Fender FAB-610 Long Scale Acoustic Bass Gig Bag
Key Features
Designed to fit long-scale bass guitars
600 denier polyester construction
10mm padded interior with microfiber lining
Backpack straps with dual handle
Front pocket
This Fender gig bag is stylish a fits acoustic bass guitar better while on a trip. The polyester construction is ultra-durable 6000-denier polyester and is water-resistant. Its interior microfiber lining and padding are well off to protect your guitar from any probable scratch. It comes with a dual handle for easy access and air-mesh backpack straps for you to have freedom carrying it hands-free with comfort. The front pocket makes space for smaller accessories.
Pros
Ultra-durable and water-resistant polyester construction
Padded interior with microfiber lining protects from scratches and dings
Backpack straps for hands-free carry and dual handle for comfortable transportation
Front pocket for gig accessories
Cons
The external pocket is not spacious
Specs
Item Weight: 2.6 pounds
Product Dimensions: 24 x 15 x 6 inches
Verdict
Durable Fender gig bag yet affordable at affordable price. It is an ideal travel case with heavy-duty polyester construction. The interior can protect against scratches your guitar may receive while on the road—a lightweight Fender case for acoustic bass guitars.
---
7. Ibanez AEB50C Hardshell Acoustic Bass Case – AEB Series
Key Features
It fits Ibanez AEB Series acoustic bass
Hardshell case
Plush-lined interior
Internal accessory pocket
Riveted handle
Five latches system
This gig bag fits Ibanez AEB Series acoustic bass guitars. This durable hard shell case has a plush-lined interior that keeps your guitar safe and a reinforced handle that is strong and comfortable while on movement. Its five latches system is there to keep your guitar secure. Its soft interior, adequate storage, latches seals tight, the strong handle makes it a complete package for Ibanez AEB acoustic basses.
Pros
Durable hardshell case
Plush-lined interior protects against scratches
Spacious internal accessory pocket
Reinforced handle
Five Latches system for your peace of mind
Specs
Item Weight: 11.35pounds
Product Dimensions: 48.5 x 18.25 x 7 inches
Verdict
The exterior of this guitar case is sturdy and built to last long, and the interior plush is soft and cushiony. The overall build quality is outstanding yet comes at a reasonable price. If you own an Ibanez AEB series acoustic bass guitar, this case fits like a glove and offers overall decent performance.
---
Acoustic Bass Guitar Case Buying guide
While writing this article on the best acoustic bass guitar case, I went hands-on with a handful of guitar cases that fit. There are plenty of options in the market, but not all of them are best. Below find a summary of what to look up for buying the best one.
5 Things to Consider Before Buying Best Acoustic Bass Guitar Cases
1. Models Fit
Since you purchased an acoustic bass guitar case and looking to buy a third-party guitar case. The first question you ask is, does the guitar case fit the model you have bought? Some guitar cases fit most models, and some fit specific models only. If there is no movement within the case and not too "oddly" tight. For details on the size, lookup for the 'spec' section for each product.
2. Protection
Protection is the primary concern for buying a case. Is the guitar case will offer enough protection? It depends mainly on how you are going to use it. If you are into travel or hit the road often, or just a solemn bedroom player looking for a case for home storage. The guitar cases on my list serve various purposes, take a close look, and do not overlook the 'my verdict' section.
3. Build Quality
The build quality of a case includes exterior and interior materials, hardware, and fitting. How solid or durable the exterior or outer shell is? What material do they use? How much shock-proof padding does the interior use? Is the guitar case protect against damages that may occur depending on usage? Look for the "Key features," "Pros," and "Cons" sections to get a fair idea before buying one.
4. Value For Money
Somebody looks up budget cases, whereas many of us look for better protection than the price quote. However, the price we are ready to pay, one thing we all want is real value for money. Does all the "features" combine you will get worth the price the guitar case is offering?
5. Storage
Storage is a big concern for those who frequently travel with guitar or hit the road too often for gigs. Accessories like song sheets, cables require spacious storage compartments. Graciously, I have included gig bags in the list for bass acoustics. Usually, gig bags comes with more pockets than hard cases. More pockets mean more space for accessories. But still, some have more space than others. You can check if the 'feature' section if it fits your need for space.
Final Thoughts
Buying a perfect case for acoustic bass guitar may be tricky enough. In this article, I hope you find one. Thoroughly read the buying guide if you are still confused about which one fits your need. Thanks for reading.